2022 Hawaii Running Lab Mileage Challenge
The HRL 2022 Mileage Challenge is our 9th virtual run/walk event. Participants can sign up for 1-7 different mileage challenges to complete during the 2022 calendar year. A mileage challenge works by setting a target mileage for a specific time frame, for example completing 500 miles in one year. This challenge is a great way for individuals and friends to set and attain their running goals for 2022 while also supporting local and small businesses. At HRL, we are all about working with happy and healthy athletes so this event hits right at our core. It has been a challenging few years for all of us as individuals and businesses in our amazing communities. We would like to have this event serve as a way for all of us to support each other and thrive together.
Here's how it works:
1) Sign up for 1-7 challenges (you can always come back and sign up for another one later in the year after you crush the ones you signed up for already). Challenge options are: 250, 500, 750, 1000, 1250, 1500, and 2000 miles. Prices are $55 for 1 challenge, $105 for 2, $155 for 3, $200 for 4, $245 for 5, $285 for 6 and $325 for all 7 challenges. Prices include free US shipping for HRL gear and challenge t shirts. International residents can have HRL gear and challenge t shirts shipped for an additional $22.
2) Pick your swag from the HRL shop. We have 7 different challenge t shirts to choose from as well as the full assortment of the HRL gear you know and love.
3) Log your miles on the event results boards. If you use the Runkeeper App, your miles can automatically upload to your challenges–We highly recommend this option. You can also manually log your miles into the leaderboard. Run and walk miles count for the challenges and you can manually upload your miles all the way back to January 1, 2022. We reserve the right to request GPS data from participants to verify completion of challenges.
4) Tell your friends—Share the link we provide to you at registration with your friends and on your social media. You can earn $5 per friends that registers thru your link
5) Knock out those miles and crush your goals 1 day at a time. We are with you every step of the way. Request to join our private HRL group on Strava and share with us on IG/FB using #HRLmileagechallenge
6) Take advantage of the amazing promos and gifts from our amazing sponsors. We are truly grateful to these businesses for all their generosity. Please show them some love.
Here's what you receive with your registration and upon completion of each registered challenge–Yes, you get the swag for finishing the challenges that you sign up for. For example, if you sign up for and complete the 1000 mile challenge. You receive the items listed for 1000 mile completion after you complete the challenge. If you want the swag from 250, 500, and 750, then you need to register for these as well.
***Finish any 5 challenges and receive a free first 4 week Let's talk coaching plan from HRL ($220 Value)***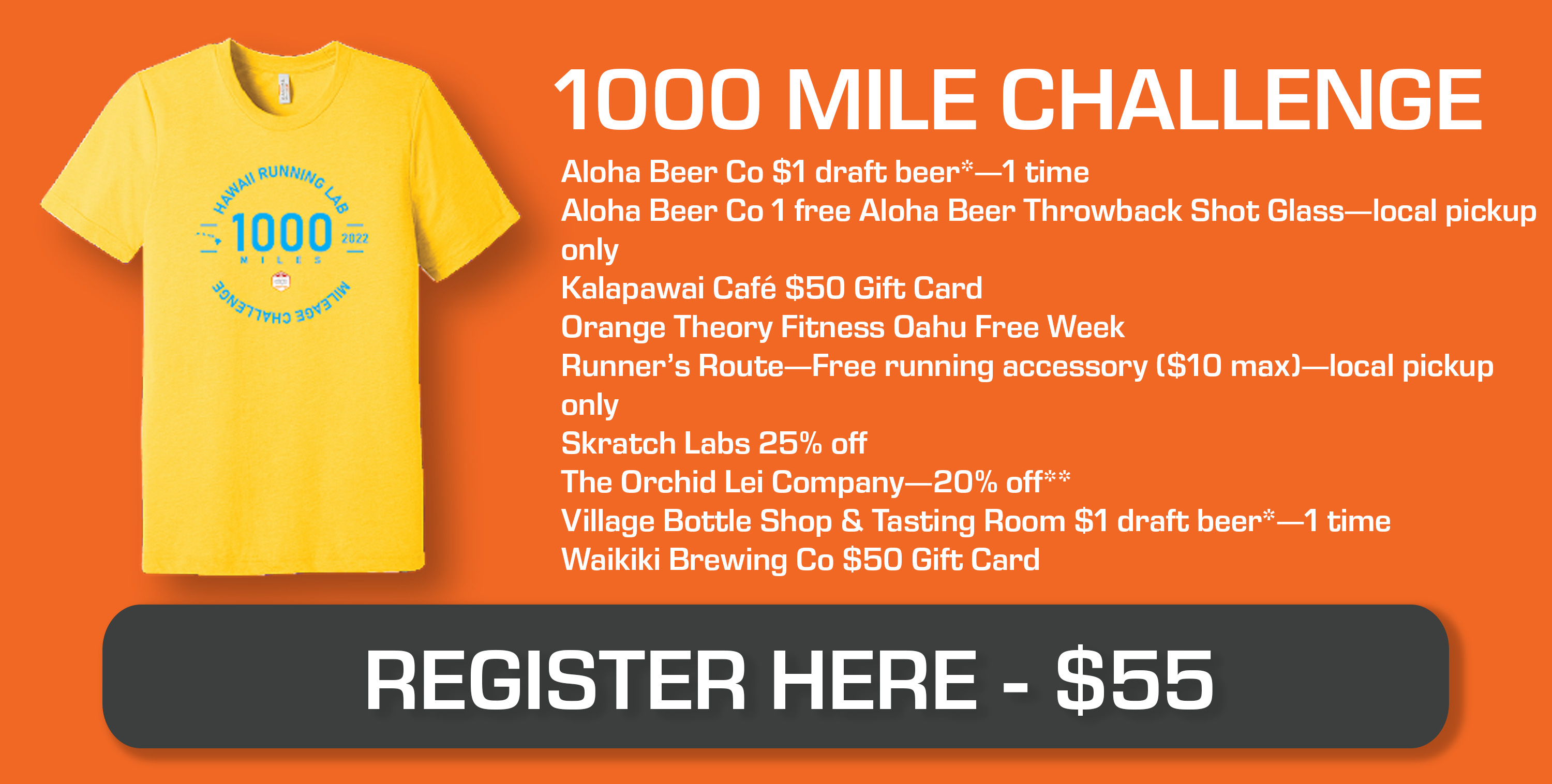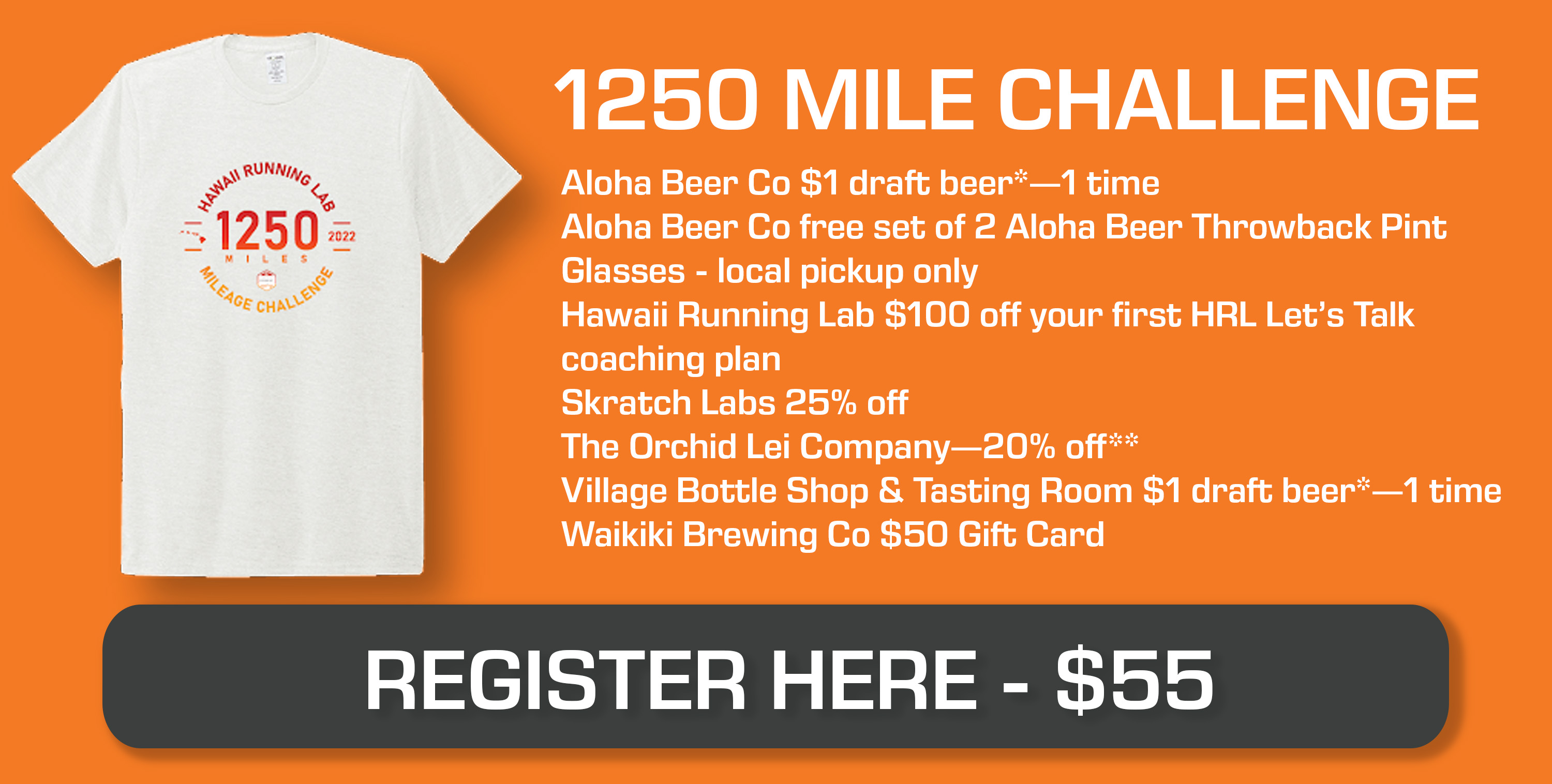 *$1 beers available for participants at least 21 years old. Must be consumed on premises. Only good for 1 beer per registered for and completed challenge.
**discount not valid May 1-June 30, 2022. Expires 4/30/2023